Hip-Hop's global superstar and OVO bossman Drake and 21 Savage are gearing up for a new visual treatment from the 'Her Loss' LP. Champagne Papi has confirmed that the visual treatment for 'Spin Bout U' is in the works and is slated to drop "this week".
The upcoming visuals will serve as the follow-up to the 'Jumbotron Shit Popping' music video released earlier this year. Featuring Central Cee, the music video is directed by the legendary Hip-Hop filmmaker Tristan C-M and captures the "72 Hours" in the two artists' lives. Besides 'Jumbotron Shit Popping', Drake & 21 Savage have released the visuals for 'Rich Flex' Recap and 'Privileged Rappers'.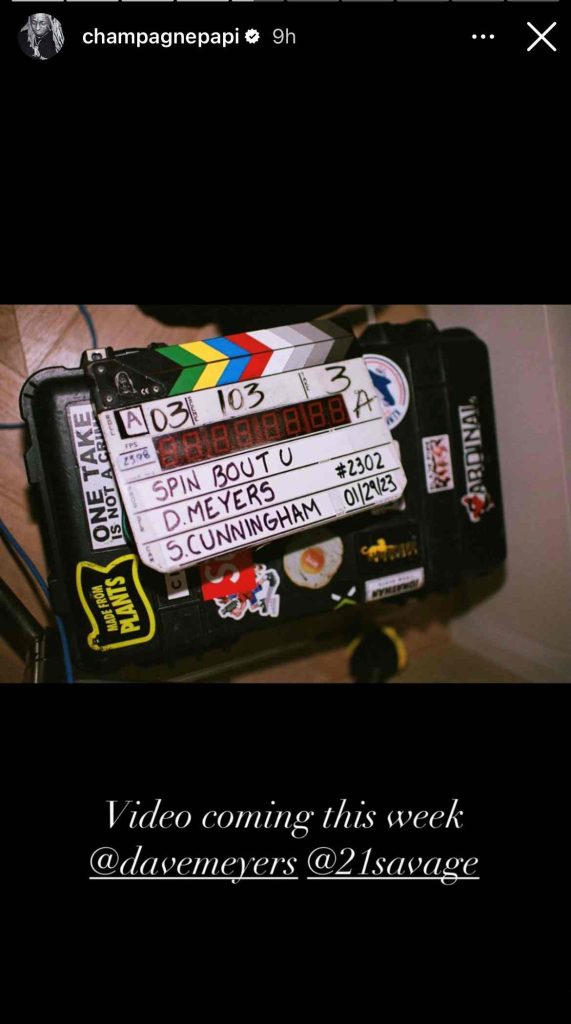 Notably, the 'Rich Flex' rappers have linked up with the award-winning Hip-Hop filmmaker Dave Meyers for the upcoming visuals. The California-based film director is behind some of the most influential rap visuals including 'Shirt' by SZA, 'Way 2 Sexy' by Drake feat. Future & Young Thug, 'I Did It' by DJ Khaled feat. Post Malone, Megan Thee Stallion, Future and Lil Baby, 'Laugh Now Cry Later' by Drake, 'Highest In The Room' by Travis Scott, 'Sicko Mode' by Drake & Travis Scott, 'Loyalty' by Kendrick Lamar feat. Rihanna and 'Humble' by Kendrick Lamar.
'Spin Bout U' is the sixth track on Drake & 21 Savage's top-selling collaborative effort 'Her Loss'. Produced by Noah '40' Shebib, the track debuted at the 5th spot on Billboard Hot 100 at the time. The rap record samples B.G.O.T.I.'s iconic 1995 R&B record 'Give Me Your Love-N'.
Look out for the Dave Meyers-directed 'Spin Bout U' music video by Drake & 21 Savage.
Watch the leading visuals from the 'Her Loss' LP here.
Be sure to listen to 'Her Loss' by Drake & 21 Savage here if you haven't yet.